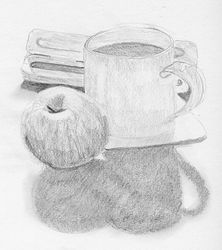 I really, really need to do more drawing.  So here's my drawing for today.  I'm a bit rubbish with pencil, but it does force me to consider values in the way that a line drawing does not.  Tomorrow is another drawing.
My art teacher last week said 'it doesn't matter if you mess it up.  You're an artist.  You can always make another one.'
That's a comforting thought, isn't it?