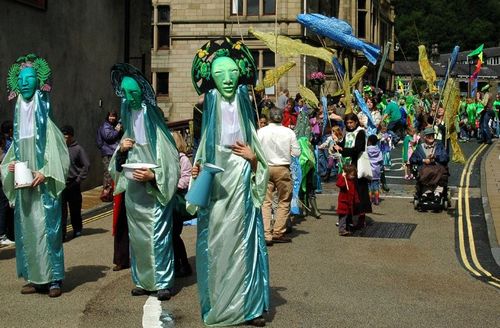 Photo: from the Hebweb.  See more photos.
Well, this is why I've been quiet around here.  The last two weeks have been completely taken up with helping to make this fantastic parade happen.  I've been helping the parade artists to run public workshops where people have been making their own costumes for the parade.   This involved, amongst other things, finishing off, bagging up, and name-labelling over a hundred individual costumes. 
The parade itself was just enormous fun.  There were three bands, stilt performers and enormous puppets made by the artists to accompany the parade.  The weather teased us with a few showers, but actually managed sunshine for a good part of the morning.  Everyone seemed to have a lot of fun, and it is probably one of the most amazing experiences I have ever had.  My own role was to keep a bunch of frogs dancing, swimming, hopping, clapping and generally enjoying the parade.   Today my calf muscles are complaining bitterly, but I'd do it all again tomorrow if I could.  Roll on next year!