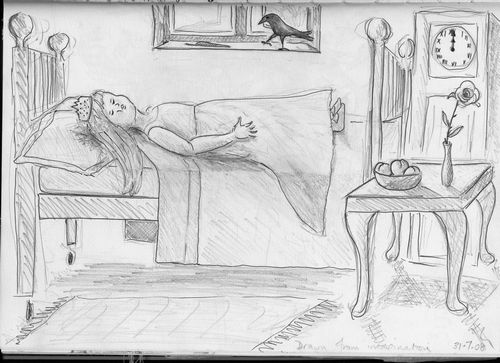 Pencil in sketchbook.
This is a new and challenging exercise for me.  Usually, I find an image to paint or draw, and then work out what meanings can be read from it.  To try something different, I tried to think how to express an idea through drawing.  This is entirely done from imagination with no visual reference (can you tell?!)  It is the first part of a series which I am working on, exploring my reactions to fairy tales – and the role of the 'princess' in particular.
Related to this, I've rediscovered the old Ladybird Books 'Well Loved Tales'.  I've managed to find a couple of these books which seem very familiar from my childhood – 'Beauty and the Beast' and 'The Princess and the Pea'.  Looking at them again, some of the illustrations are very familiar indeed, whilst others I can't remember at all.  Obviously as a child, I had favourite pictures which I looked at again and again.  I plan to use this somehow – but I'm not sure how yet!