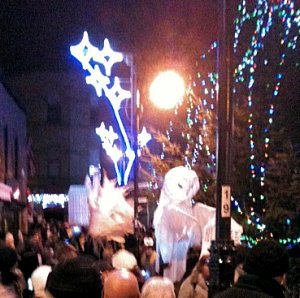 Valley of Lights was a series of three parade-centred events held in the Upper Calder Valley towns of Todmorden, Hebden Bridge and Mytholmroyd coinciding with the Christmas Lights switch-on.  The aim was to give the towns a boost after the devastating floods of Summer 2012, and to celebrate the Valley's recovery.  So yes, it was about showing everyone that the towns are very much open for business, and retailers and stallholders were open to delight shoppers.  But it was about something much more.   I think its real power was in strengthening the community through a collective reflection, healing, and moving on together.  It did this in three ways – through bringing people together to physically make things; through the healing power of collective storytelling; and through a performative connecting of the three towns.
1. Making things
Handmade Parade has been delighting the communities around Hebden Bridge since 2008.  It is a community parade with three simple rules – no logos, no motorised vehicles, and everything made by hand.  Community workshops are held prior to each parade in which people are invited to make their costumes, or help to make large scale puppets which will be carried.  As one of the volunteer helpers in their first year, I know that this involves a lot of hands-on messiness, up to your elbows in papier mache, paint, glue and cardboard.  For Valley of Lights, participants made lanterns in symbolic forms representing the three towns, with higgledy piggledy town houses out in force.  But I think the strength of this activity is the collective making of things – coming together to work materials with the hands and craft forms.  This is a timeless community activity, whether it be basket weaving, coiling pots – or making lanterns.  There is something about working with the hands that enhances quality of conversation, and indeed that has a language of its own.
2. Collective Storytelling
These handcrafted puppets and costumes then take to the streets, together with handmade music from the valley's home-grown samba and street bands.   The parade is hugely celebratory with the crowds clearly delighting in the spectacle.  But it is about more than just marching and looking.  The parade sets into play a narrative which is developed through the parade finale.  For Valley of Lights, the fire finale told the story of the great floods of 2012, through large lantern puppets of town houses and landmarks such as Stoodley Pike, Hebden's bridge, and the Mytholmroyd clock tower.  Clouds appeared and danced over the towns as the flood waters advanced.  A huge shadow puppet display showed people arriving to rebuild the towns (I think – being short I was struggling to see, so if anyone can fill me in on this I'd be grateful!).     Finally, a dazzling display of firework fountains and fire dancers celebrated the recovery and the power of community.  As a participant I felt that I was taking part in a ritual healing retelling of our story, and a passing of that story into myth – so that we can move on with light and hope.
3. Connecting the three towns
On the middle event in Hebden Bridge, the finale was followed by the arrival of 200 cyclists who were cycling from Todmorden, via Hebden, and then onward to Mytholmroyd.  They made quite an impression with bikes and bodies blinged-up with LEDs, and bells merrily ringing – a river of light and sound running through the valley.  For me, this was a performative act (an action that does what it says).  In the very act of cycling between the three towns, they were making the connection between them.  The meaning was in the cycling.  As a spectator, this was literally moving, bringing tears as well as smiles and cheers.  I found it profoundly affecting.
As a beautifully conceived celebration, recovery, stimulus and remarkable demonstration of the creativity and strength of the people of the Upper Calder Valley, it couldn't have been better.  Huge thanks to Valley of Lights organisers and Handmade Parade for giving us all something to be proud of, and some sparkling memories.