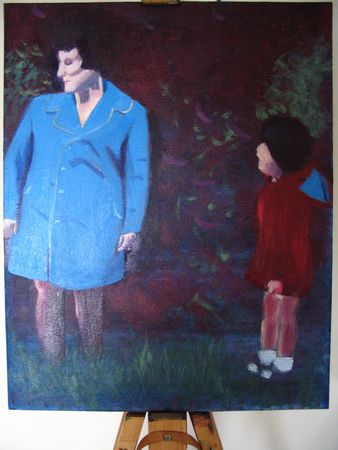 Oil on Canvas
My objective with this painting was to start using oil paints on canvas.  I've mainly been using acrylic paints, and these behave quite differently.  I can splash acrylics about in large quantities as the paint is quite sloppy and comes in big tubs.  Oil paint comes in tubes and is thicker.  I haven't learned how to loosen it up – partly because I'm using Artisan water-mixable oil paints, and they do behave a bit strangely.  I wanted to avoid using turps if possible, but I'm not sure the experiment is working.  I'll persevere until the tubes are used up, and then decide whether to continue with them.
Because of the difference in consistency, and because I mentally think of oil paint as more expensive, I find I'm working much more conservatively with it.  I paint more slowly, partly because I'm getting used to the feel of the paint.  I think this makes the painting less lively, but it is perhaps a more contemplative painting as a result.  I'm struggling with proportions and need to do much more figure drawing, but I am enjoying painting figuratively.  I never thought I would.
I've been reading about Paula Rego, and have become quite fascinated with the way she works with narrative.  Her pictures are carefully crafted to tell a story, and the stories are usually slightly uncanny creating a sense of discomfort.  I love her drawing, which is bold and confident.  I'd love to be able to draw that confidently.