Monoprinting involves rolling out a thin layer of ink onto a plate (plastic or glass), and then either
a) drawing into the ink, then placing the paper over and rubbing to transfer the image; or
b) placing the paper gently over the inked surface, then drawing on the back of the paper to transfer the ink where you draw the lines.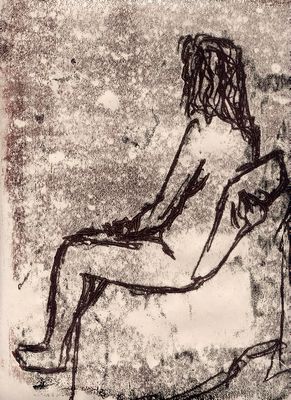 We had to work very quickly, as we were using waterbased ink which was drying fast.  Most poses were a maximum of 15 minutes, many were shorter.  I took several drawings from each pose, with each drawing taking only 3 minutes or so (that's fast for me!)  I produced about 20 drawings from the one class. 
I found that this way of working suited me very well, and I think I need to do something like this more often.