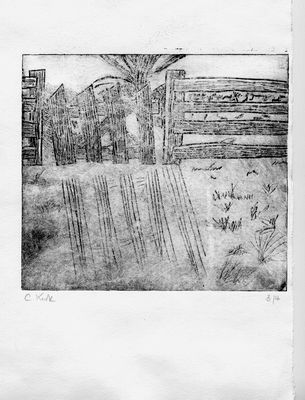 For this print, taken from one of my earlier sketches, I used a piece of intaglio printing card (it has a sort of shiny, plastic surface).  Using the edge of a glue spatula (which was all I had to hand, but wasn't an ideal tool) I carved the design into the card.  I then scraped a thin layer of oil based intaglio printing ink across the whole plate and then blotted most of it off again with rags and torn pages from a yellow pages, leaving ink in the grooves and some ink on the surface of the card.  The method of printing is the same as for collagraph i.e. soak a piece of heavyweight paper and then blot the excess water off it.  Place a registration sheet on a piece of protective newspaper on the printing press.  (The registration sheet is a template of the same size as the paper you will print on that marks out where you need to put the plate to ensure prints are positioned correctly.  Sadly I didn't use one for this as I was just testing the plate.) Lay the plate face up onto the registration sheet, place the damp paper over, lining up edges with the registration sheet, cover with newspaper and then the blankets and run through the press.  Voila!
I learned that:
a) you need to leave quite a lot of ink on, and be careful not to rub it back out of the design; and
b) it is good to use a variety of cutting tools so that you get a variety of lines.