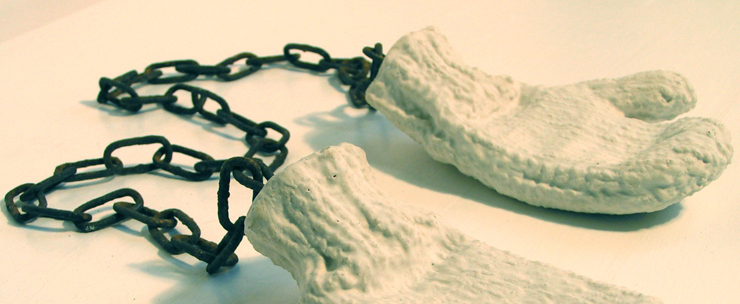 The shadows looming on the wall, like Boltanski's shadow puppets, draw me into the back room of the gallery.  As I round the corner of the dimly lit room, I am greeted by a colourful flock of knitted toys flying out towards me.  They seem to be escaping from the bottom drawer of a chest that lurches to one side, reminiscent of Robert Gober's tilted playpen.  The knitted toys form a motley crew, some quite new, and others very patched, worn and grubby.  We are in Paula Chambers' 'Bottom Drawer' at South Square Gallery at Thornton, near Bradford. 
The installation is intended to reference both teenage pregnancy and the tradition of dowries.  Traditionally the bottom drawer is a place for a woman to store her clothes, linen, etc. in preparation for marriage.  Paula Chambers' bottom drawer is beautifully lined and padded.  The lurching chest suggests a violent incident has occurred to tilt the status quo; the emerging flock of toys suggest a childhood rapidly escaping from its padded closet.  The drawer can also stand in for the soft warmth of the maternal body.  As with all of Chambers' work, this piece has many layers of meaning. 
Back out in the main gallery space, there are a collection of works, all of which make some comment on maternity.  A pair of marble gloves joined with a rusting chain is anything but warm and comforting.  Next to them stand a pair of toddler-sized wellington boots, cast in concrete.  The title – 'Not Waving but Drowning' – illustrates the hopelessly inappropriate nature of the material.  The trials of motherhood are graphically illustrated by baby clothes painstakingly knitted in stinging nettle yarn.  The title 'For the Love of God' prompts me to think of hair shirts and other self-sacrificing rituals associated with Christian worship.  Another Christian reference is provided by a set of nine commemorative sipper cups, carefully crafted from porcelain (another hopelessly inappropriate material).  They stand solemnly in a row, their fronts marked with black crusade-type crosses, suggesting more of a memorial than commemoration.  For me, they evoke war cemeteries with their multiplicity of identical white tombstones.  The fact that these are toddlers' sipping cups suggests loss of children connected in some way to religion – perhaps the multiple deaths of girls in those religions where boys are prized and girls expensive.
If you are in the area do drop in, as this is a thought provoking exhibition with a good dash of wit, and meticulously presented.  Apart from anything else, there is also a vegetarian café, which serves luscious salads and reassuringly large slabs of home-made quiche.  'Bottom Drawer' is on at South Square Gallery from 2 – 31 May 2009.