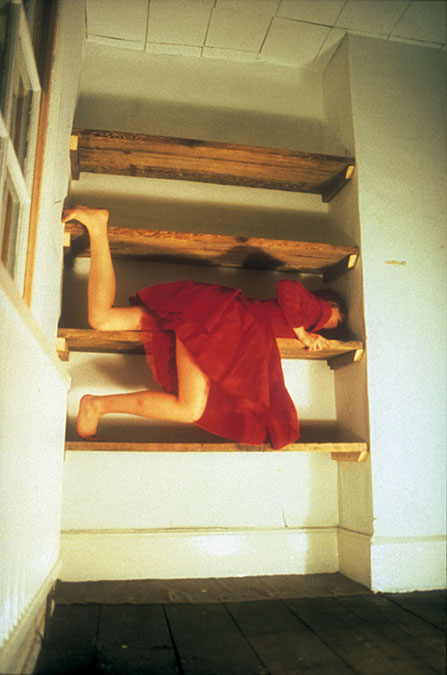 The Subversive Spaces exhibition now showing at the Whitworth Gallery in Manchester explores what lies below the surface of our everyday spaces.  Cosy domestic interiors become places of considerable unease, whilst city streets become places of escape, dreamscape, and hidden landscape.  The works on display show connections between the early Surrealist artists such as Andre Breton, and contemporary artists such as Sarah Lucas.  An upended sofa treads on the body of a mannekin upon which is projected the face of a woman telling us 'it's so beautiful' (Tony Oursler 'The Most Beautiful Thing I have Never Seen').  Perhaps this alludes to women's insistence, particularly in the past, on presenting an outward appearance of everything being just great in the home, even though the domesticity of cooking, cleaning, and childminding weighs them down.  A video piece (pictured) shows a woman literally 'climbing the walls' of her room, illustrating the potentially stifling experience of being a woman confined and voiceless to the domestic spaces of the home.  Mona Hatoum's steel cot with a bed of thin wires hints at the violence of feelings in childcare.  The Surrealists wanted to bring out the hidden narratives of our everyday living spaces, interior and exterior, and this is being continued by contemporary artists.
The exhibition also includes 'Kinderzimmer' by Gregor Schneider, which has been specially commissioned, and apparently contains a replica of a child's nursery from a German town that was destroyed to create an open cast mine.  Unfortunately I was unable to view it, as it has to be viewed one person at a time, and all the tickets had gone (in fact the last one went to the person in front of me – damn!)  So if you do visit, go early and go straight to the entrance to the 'Kinderzimmer' and get your ticket to avoid disappointment.
For my friends (and any readers) living around Warwickshire, this exhibtion will be moving to Compton Verney, showing from 13 June – 6 September 2009.